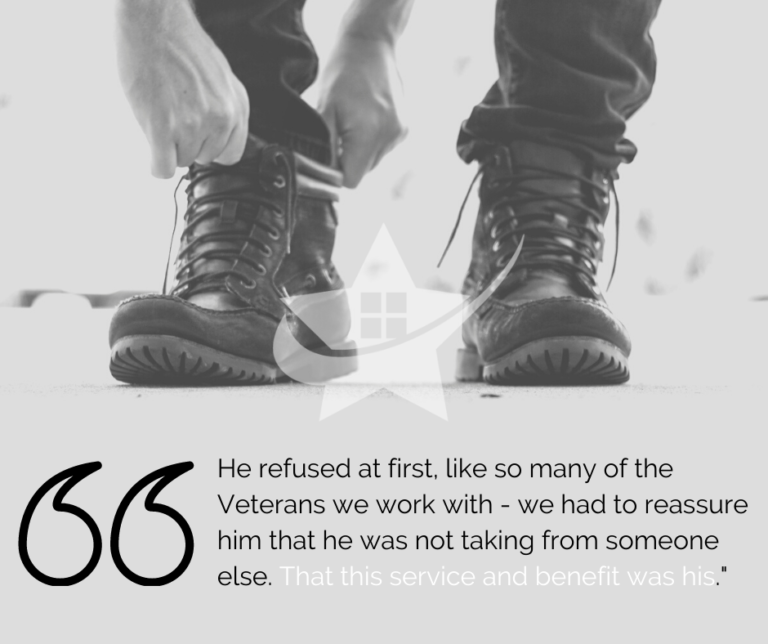 Get your tissues ready. A middle-aged man came in for Rapid Rehousing intake; at 50 years old having never had a place of his own. At this point in his life, he was finally in a position to be able to comfortably afford rent, but was struggling with coming up with a deposit. The landlord he happened to be working with works with Welcome Home all of the time, and told him to give us a call. He had been working with another local nonprofit and their rental assistance program, but their paperwork and run around can be difficult; not accessible for someone with limited transportation options. Due to the pandemic this nonprofit had been overburdened with civilians in need of rental assistance – because our programs are Veteran-centric, we knew we could make this process much easier, and much timelier. Rapid ReHousing offered to not only get this man his deposit (which is all he was asking for), but 2 months of his rent as well so that he can feel more secure, comfortable, and stable.
He refused at first, like so many of the Veterans we work with. We had to reassure him that he was not taking from someone else. That this service and benefit was his – that he wasn't putting another battle buddy, potentially in more need, out. He deserved it. For a million different reasons – he deserved it. We could see the weight of the world lifting off this man's shoulders.
Upon further investigation, we discovered another opportunity through VETS Work to supplement his income. Feeling more lighthearted and under less stress, he humbly made a joke about working holes in his shoes… and then supplied proof as he was wearing them. This man worked SO hard, both shoes were literally falling apart. Because of the outstanding members of our community, we keep in-kind donations such as these on hand – the only caveat being whether we had his particular size. Whether it be fate, or divine intervention we were able to supply him with his first new pair of shoes in who knows how long – a good, solid pair of Gortex boots – that will last.
That man cried in appreciation, humility and awe at least three times during his intake process. We could never get him to agree to let us help with his utility deposits, as we were giving him "too much" already.
This Veteran's humility, grace and reluctance to accept the help and services he SO deserved, is why we do what we do each and every day at Welcome Home. It could be something as simple as a pair of good work boots that can be that spark a person needs to keep going. A spark that lets them know – we, and this community, have your back – no one left behind.
We are more than just a homeless shelter: we honor our nation's Veterans and restore their lives.