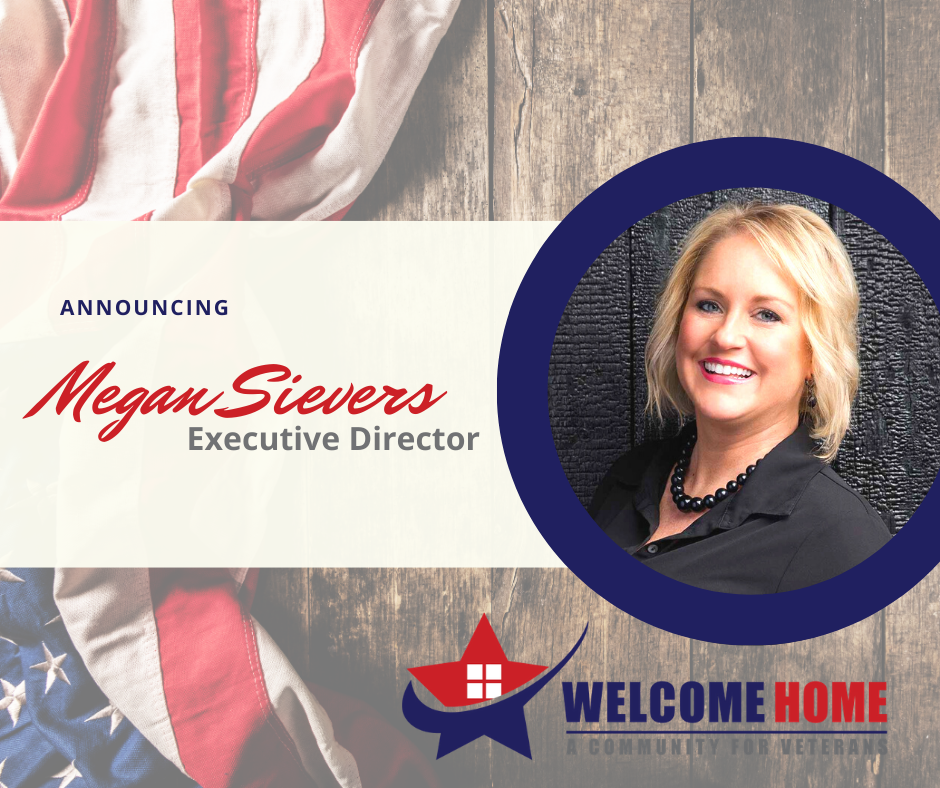 FOR IMMEDIATE RELEASE
Friday, December 11, 2020

For more information contact:
Terry Roberts, President Welcome Home Board of Directors
[email protected]
(573) 239-9631
WELCOME HOME ANNOUNCES NEW EXECUTIVE DIRECTOR
(Columbia, MO) – December 11, 2020. Welcome Home conducted a nationwide search for an executive director and found the best candidate right in their own backyard. Megan Sievers of Hallsville, MO was selected by the Welcome Home Board of Directors to lead the organization into 2021 and beyond.
Terry Roberts, President of the Welcome Home Board of Directors, stated "Megan brings energy, passion and experience to a critical position within the organization. We are positioned to expand our operations in the battle against Veterans homelessness and Megan is the right person, at the right time, for the right job."
Sievers has been affiliated with and led organizations serving the military and Veterans since 2004. Her Bachelor's Degree in Business Management and Marketing, formal training and certifications, and years of experience working in the nonprofit sector have helped the organization reach new heights in programs, services, fundraising, and partnerships. She has served as the Development Director at Welcome Home since August 2017 and has led the organization to unprecedented levels of fundraising; supporting the 2017 Capital Campaign and transition from a 10-bed shelter to 34-bed, 32-room shelter and supportive services center.
Upon notification of her selection, Sievers stated, "I am incredibly honored, humbled and excited to be selected to serve the organization in this capacity. I look forward to continued growth, collaboration, and opportunities for Welcome Home, as our Veterans deserve all we can do to honor their service and help restore their lives."
About Welcome Home:
Welcome Home is a non-profit Transitional Shelter and Supportive Services Center serving Veterans exclusively in Mid-Missouri since 1992. Welcome Home works to honor Veterans and restore lives with a vision to end Veteran homelessness. Learn more at WelcomeVeterans.org.