"We make a living by what we get. We make a life by what we give." -Winston Churchill
With your generous gift
 you will help provide direct assistance to homeless and at-risk Veterans, as well as their families. Will you help us honor Veterans and restore their lives? 
If you or your organization are interested in supporting our deserving heroes, please consider a tax-deductible donation today! 

BECOME A HERO & MONTHLY DONOR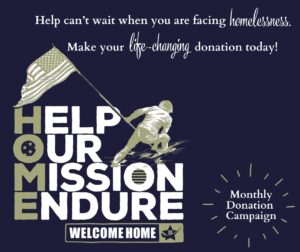 Your
generous monthly gift
works round the clock helping take care of homeless and at-risk Veterans. By knowing what to expect each month, your gift can help us plan and budget more effectively for programs and services. We will even send you a t-shirt just for signing up!
Will you
pledge
your support to 'Help Our Mission Endure' by scheduling your monthly gift today?

SPONSOR A ROOM FOR VETERANS
Be a hero for those who served and need our help to get back on their feet. 
Take the pledge to sponsor one of our 32 rooms for one year, significantly impacting the lives of deserving Veterans and their families. 
FOR THE SAFETY AND WELL-BEING OF OUR VETERANS AND STAFF, WE ARE LIMITING IN-KIND DONATIONS TO THOSE ITEMS LISTED ON OUR NEEDS LIST. 
By donating items and supplies from Welcome Home's Needs List, you help us cut costs and provide homeless and at-risk Veterans with things they need during their transition.
IMPORTANT NOTE: Please call ahead before delivering in-kind donations: 573-443-8001, so we can plan for your visit and help as needed! Thank you for your help and being such an amazing community! 
Please consider donating items not on our "Needs List" to one of our partners: 
The Wardrobe 
715 Park Ave.
Columbia, MO 65201
(573) 442-3260
Love INC.
Business Loop 70 W
Columbia, MO 65202
(573) 256-7662

New Life Community Church 
901 Wilkes Blvd 
Columbia, MO 65201 
(573) 875-0603 
Salvation Army
1108 W. Ash.
Columbia, MO 65203
(573) 442-3229
American Rural Family Health Project
Columbia, MO 65203
Call to arrange
573-424-2778