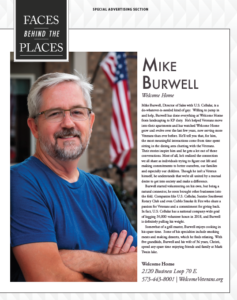 In July 2018, our "Faces Behind Welcome Home" campaign features Mike Burwell.
Thank you for all you do for the community and Veterans, Mike! 
Mike Burwell, Director of Sales with U.S. Cellular, is a do-whatever-is-needed kind of guy. Willing to jump in and help, Burwell has done everything at Welcome Home from landscaping to KP duty. He's helped Veterans move into their apartments and has watched Welcome Home grow and evolve over the last few years, now serving more Veterans than ever before.
ABOUT CAMPAIGN: Welcome Home has teamed up with Inside Columbia & Prime Magazines to feature a true champion for the Welcome Home mission each month.