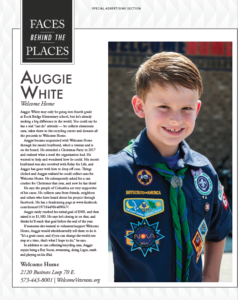 In August 2018, our "Faces Behind Welcome Home" campaign features Auggie White.
Thank you for all you do for the community and Veterans, Auggie! 
Auggie White may only be going into fourth grade at Rock Bridge Elementary school, but he's already making a big difference in the world. You could say he has a real "can do" attitude — he collects aluminum cans, takes them to the recycling center and donates all the proceeds to Welcome Home.
ABOUT CAMPAIGN: Welcome Home has teamed up with Inside Columbia & Prime Magazines to feature a true champion for the Welcome Home mission each month.