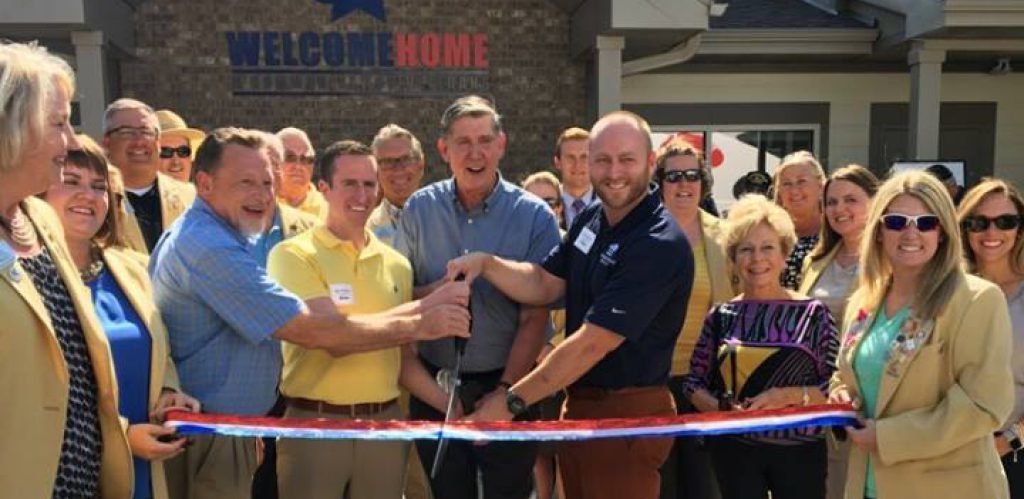 We're excited to share that we celebrated the grand opening of our new Welcome Home facility on Thursday, July 20th. Not only will this expansion allow us to continue to be a beacon of hope for at risk veterans in Mid-Missouri, we can now touch the lives of even more veterans caught in the vicious cycle of homelessness.
Supporters from all walks of life joined us for the ribbon cutting event and we are humbled by the generosity of our community. It took an amazing investment of time, money and energy to build this brand new 34-bed facility. With your help, we raised the $3.2 million needed to build this facility and we are now one step closer to achieving our dream of leaving no veteran behind.
Welcome Home's dream was born 25 years ago when a group of veterans in downtown Columbia decided to take action against homelessness. They pooled their money, bought a home, and started helping local veterans get back on their feet. We've been pursuing their vision since 1992. And in 2016, we were able to serve 124 veterans—in a home with only 11 beds. Because space was so limited, we were forced to turn 92 veterans away, unable to provide the service we strive for.
"It's not acceptable for one veteran to be sleeping on the streets of Columbia," said Executive Director Tim Rich. "These are the men and women who signed on the dotted line and were willing to make the ultimate sacrifice for you—and for me."
This amazing new community will bring new jobs and volunteer opportunities for local residents, and rapid rehousing for veterans. With 34 beds, we can comfortably triple the number of veterans we served in 2016, and serve women and children.
We are truly grateful for our friends and partners. It is your passion that will enable us to provide transitional and rapid rehousing, meals and supportive services for those who served and sacrificed so much. It's estimated that there are currently over 700 homeless veterans in the state of Missouri. We know we have a long way to go, but we've come a long way, with your help, to make a difference for our area veterans.