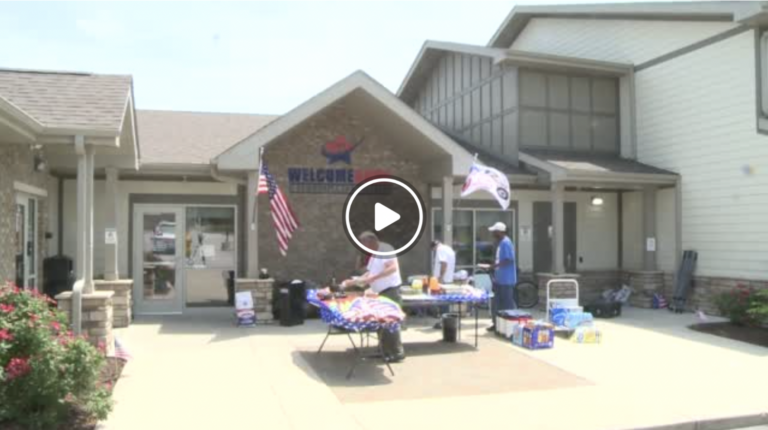 Rachel Henderson, KOMU Reporter
May 30, 2022
COLUMBIA – Welcome Home veterans center is working to end veteran homelessness while keeping the spirit of fallen veterans alive this Memorial Day.
Welcome Home originally formed after a group of Columbia Vietnam War veterans had a brother-in-arms who died in the streets. The new center opened off of Business Loop in 2017 and serviced 342 veterans and their families last year, according to data from their yearly report.
Memorial Day officially became a federal holiday in 1971 with roots dating back to the Civil War. Since then, most government offices, businesses, banks, schools and more observe the holiday with a day off. Today, however, Welcome Home's doors are wide open.
"I did it last year," Timothy Scott, operations supervisor at Welcome Home, said. "On the big holidays, we enjoy cooking out for our veterans, because I look at it this way. You know, right now they're not with their families."
Scott began working at Welcome Home after he left the Missouri Army National Guard back in 2019. Before that, he served in the Marine Corps right out of high school from 1988 to 1992, the same year Welcome Home opened. Even though he was not homeless when he returned home, he says veteran homelessness is not uncommon.
"There's been certain struggles with homeless veterans, trying to get housing, you know, with things going today, it's been kind of not easy, trying to find them housing," Scott said.
According to data from the U.S. Department of Housing and Urban Development, there were 495 homeless veterans in Missouri during 2020.
Megan Sievers is the executive director of Welcome Home. She said even though some veterans are not exposed to physical violence from wars, there are still various factors that make living as a veteran extremely difficult.
"When a lot of guys and gals come back from service, there are a lot of unseen circumstances that they might come back to," Sievers said. "And it could be everything from mental and physical disability, maybe not one that you can see, but it's certainly there."
Ultimately, the center's goal is to keep as many veterans alive and supported as possible.
"The idea is to not only provide the basic needs and essentials to veterans, but really provide them with the wraparound services and advocacy that they need to sustain independent living and live, you know, a greater, improved quality of life," Sievers said.
Scott said for veterans who are no longer physically living, Welcome Home staff's focuses on keeping their memory alive and well.
"It's not about you know, me, it's about my brothers and sisters that never got to come home and gave that ultimate sacrifice," Scott said. "And that's what we recognize on Memorial Day."
At the same time, he said celebrating the sacrifices his residents made is equally as important. This year, that means getting behind the grill, catching up with friends and soaking up the sun.
"That's what we do here," Scott said. "That's what I want to recognize. I want them to understand that we care about them. And, you know, it's like a family here. So why not?"
Welcome Home said their goal this year is to support the same number of veterans as last year, if not more.