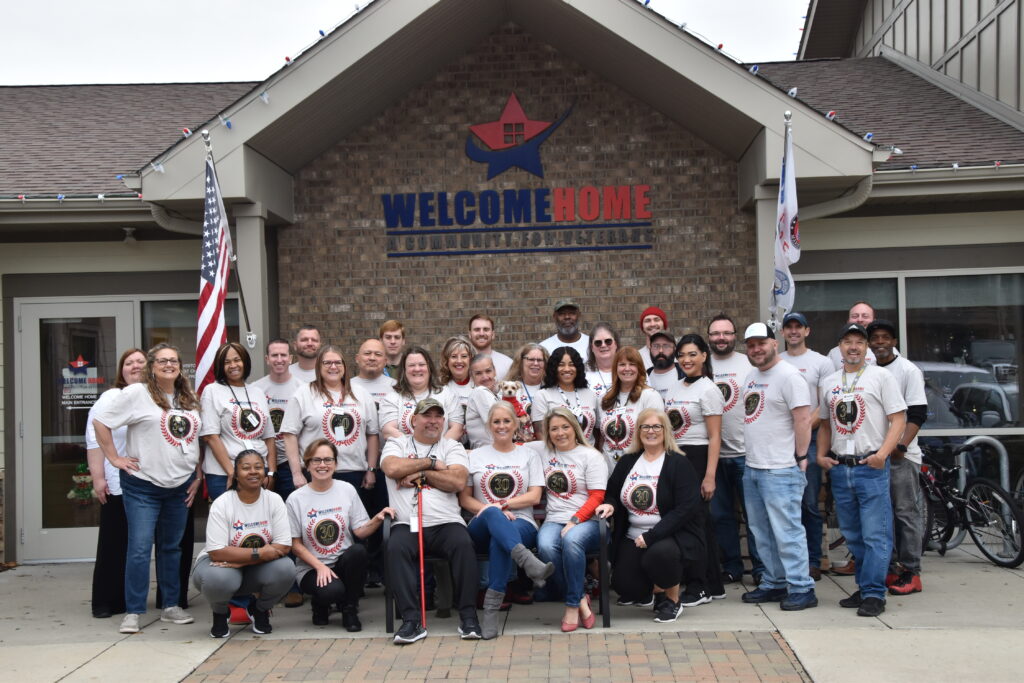 FOR IMMEDIATE RELEASE                                                  
Friday, December 30, 2022 
For more information contact: 
Megan Sievers, Executive Director 
[email protected] 
(573) 228-2400 
(Columbia, MO) – In honor of a Welcome Home's 30-year anniversary this year, staff and board members came together to celebrate the mission's special milestone.  
Driven by the mission to honor Veterans and restore their lives, Welcome Home has had a significant impact in the lives of Veterans and their families around Mid-Missouri since 1992. Founded by a group of Columbia Vietnam Veterans, Welcome Home was created to support homeless Veterans "who might have come home, but didn't land well," said Megan Sievers, Executive Director.   
Welcome Home purchased its first shelter at 1206 Rangeline Street — 2,500 square feet of space that could shelter 13 male Veterans on any given night. Though the shelter served an admirable purpose for many years, Welcome Home was unable to meet the great need due to space and funding constraints.   
In September 2017, after a successful $3.5M capital campaign, Welcome Home moved into their current facility at 2120 Business Loop 70 East. The new property features 32 private rooms with bathrooms, including two family rooms and separate corridor for female Veterans. On average, Welcome Home serves 350 Veterans and their family members annually, with more than 10,000 of bed nights and 30,000 meals provided. But, Welcome Home is more than 'just a shelter.' The Veteran-centric non-profit has a community-based approach that empowers homeless and at-risk Veterans to return to society as productive, self-supporting citizens.  
"The entire staff and Board of Directors takes Welcome Home's mission very seriously," said Jenny Lorenz-Rudkin, Board President. "We have dedicated 30 years so far and we are progressing with even greater momentum as we expand our outreach, resources, and results."  
Through their shelter and permanent housing programs, Welcome Home paves the way for Veteran housing in mid-Missouri. Other onsite wrap-around programs and services, including employment assistance, connection to eligible benefits, mental and physical healthcare, transportation, and advocacy offer homeless and at-risk Veterans an opportunity to live a better quality of life, a life they deserve. "We have been working diligently on some really exciting plans that will have even greater impact in the future," said Lorenz-Rudkin.  
"It's truly incredible how far we've come in the last 30 years," Sievers said.  "The mission of Welcome Home gives our passionate staff, dedicated Board, and beloved community great purpose, a unified purpose. There are no words to express the depth of my gratitude for everyone's heart, hard work, and commitment since the day Welcome Home was established. Our nation's heroes deserve every bit of support we can provide, and we will stop at nothing until we end Veteran homelessness." 
To learn more or join the mission of Welcome Home, visit www.WelcomeVeterans.org.  
Welcome Home, Inc. is a non-profit Transitional Shelter and Supportive Services Center serving Veterans exclusively in Mid-Missouri since 1992. Welcome Home works to honor Veterans and restore lives with a vision to end Veteran homelessness.