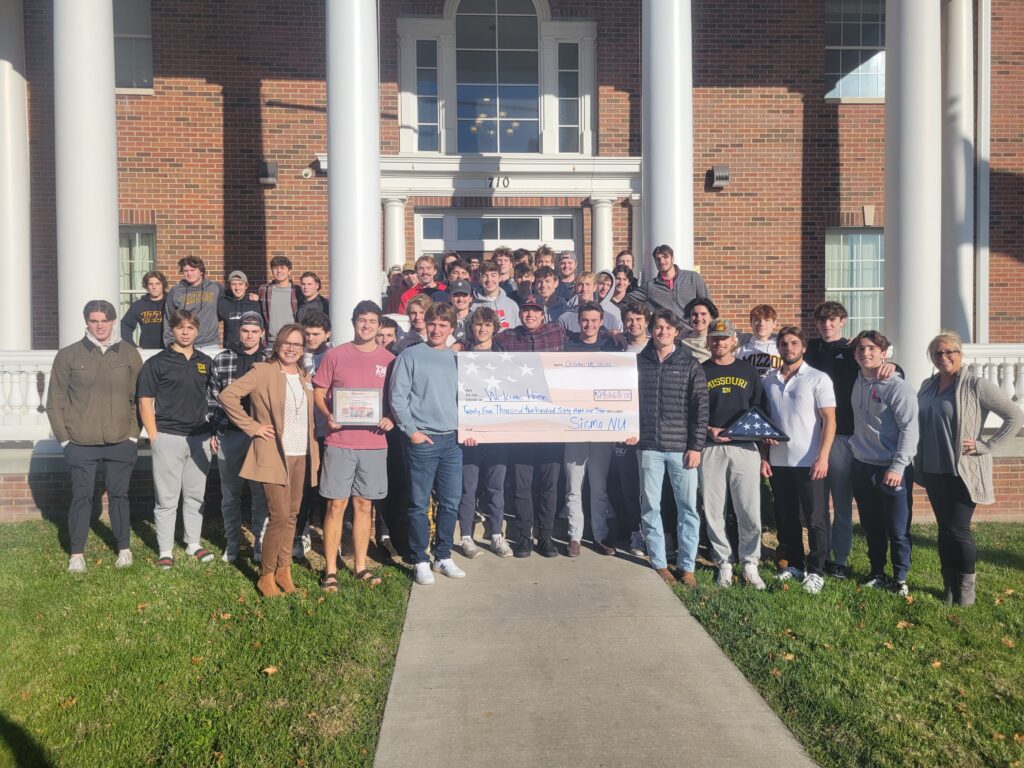 FOR IMMEDIATE RELEASE                                                 
Wednesday, October 19, 2022
For more information contact:
Megan Sievers, Executive Director
[email protected]
(573) 228-2400 
WELCOME HOME SURPRISED WITH DONATION FROM SIGMA NU FRATERNITY VETERANS BENEFIT CONCERT FOR THE SECOND YEAR
(Columbia, MO) – In honor of our nation's military heroes, the Sigma Nu Fraternity at the University of Missouri hosted "Sigmapalooza," a benefit concert featuring Waka Flocka Flame and Skyvak, at The Blue Note on Thursday, September 22, 2022. For the second year, 100% of concert proceeds benefitted Welcome Home: A Community for Veterans and their Veteran programs and services.   
After many months of planning and preparing, the Sigma Nu Veterans benefit concert was a huge success, raising $24,268 for Welcome Home, a nonprofit charity in Columbia, MO whose mission is to honor Veterans and do whatever it takes to restore their lives.  
"We at Sigma Nu are honored to be able to team up with Welcome Home two years in a row. We are more than proud to have raised over $24,000, this was once again and hopefully will continue to be one of the biggest philanthropy events at Mizzou. None of it is possible without the student body and residents of Columbia supporting our efforts. We are excited to build upon our relationship with Welcome Home and the Blue Note in the future. Lastly, we would like to extend our thanks to Room 38 for donating their door proceeds the night of the concert". 
With 2,731 members since their local founding in 1886, Rho Chapter of Sigma Nu Fraternity has an extensive history at the University of Missouri. Their core values are love, honor, and truth, and their vision is excelling with honor. Fundamentally, they emphasize their commitment to academic excellence and leadership development. Their Chapter prepares its members for a successful and enjoyable college experience and forms bonds that last long after graduation. 
Megan Sievers, Welcome Home's Executive Director, said, "This effort reflects every bit of Sigma Nu's core values and unwavering passion to give back to the community. We are beyond grateful for the continued partnership and support from Sigma Nu and The Blue Note. Sigmapalooza is so much more than a benefit concert with fantastic performances, it's an avenue to band together for the greater good and pay it forward to our nation's heroes who have courageously served and sacrificed. We can't thank Sigma Nu enough for finding Welcome Home's mission worthy again this year and joining forces to end Veteran homelessness."  
Welcome Home, Inc. is a non-profit Transitional Shelter and Supportive Services Center serving Veterans exclusively in Mid-Missouri since 1992. Welcome Home works to honor Veterans and restore lives with a vision to end Veteran homelessness.  Learn more at WelcomeVeterans.org.
-WHI-