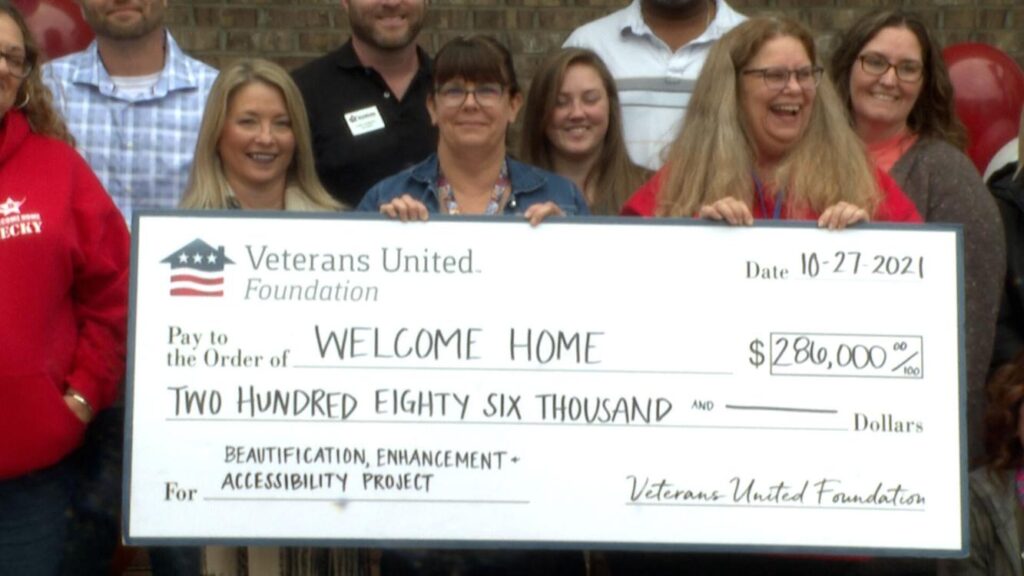 Wilson Truong, KOMU 8 Reporter
COLUMBIA – Welcome Home, a nonprofit transitional and emergency shelter for veterans, received a $286,000 grant from the Veterans United Foundation in a ceremony Wednesday afternoon.
This grant from the Veterans United Foundation is part of a plan by the organization to award $10 million to nearly 100 different nonprofit organization. Eight million dollars alone will go to mid-Missouri organizations. 
The foundation, which is the charitable arm of Veterans United Home Loans, is celebrating its 10-year anniversary this year.
Megan Sievers, the executive director of Welcome Home, found out Veterans United decided to give the shelter a grant a few weeks back. She said she wanted to make this a surprise for the workers at the shelter.
"We wanted to make this a pretty big surprise for our team and our board members," Sievers said. "[The grant] goes above and beyond the support they already provide here at Welcome Home."
"We will be able to use this money and do things that we would not be otherwise able to do," Sievers continued.
Sievers also gives credit to the long-lasting relationship between Welcome Home and Veterans United for being able to receive the grant.
"[Veterans United] supported our mission through thick and thin," Sievers said. "They're the reason we have the building that we have right now."
"They are truly part of Welcome Home's lifeline, and our DNA as an agency," Sievers said.
The grant will be used to renovate and upgrade the facilities to make it more ADA compliant, according to Sievers.
Renovations will include building an ADA accessible ramp, retrofitting two shelter rooms for ADA accessibility and installing a back-up generator. Welcome Home also plans to purchase a van that is wheelchair accessible. 
Erik Morse, the president of the Veterans United Foundation's Board of Directors, said this is an example of how Veterans United can be impactful to the community.
"There's never been an event like this in Veterans United history," Morse said. "We're so appreciative of everyone's efforts from the foundation staff, to our Board of Directors and most certainly to our employees."
"These projects will allow our communities to provide food, safety and comfort for unsheltered Veterans and families," Morse said.
Other organizations who are expected to receive a grant from Veterans United include the Central Missouri Humane Society- Animal Care and Resource Center, Columbia Center for Urban Agriculture – Accessible Garden for Veterans and Coyote Hill.