WELCOME HOME RECEIVED $17,000 GRANT AWARD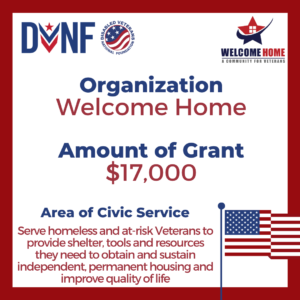 With this funding, these organizations are able to offer a wide variety of services and support to disabled and at-risk veterans. The charities vary in size, mission, and focus, and grants were awarded based on the size of the grant request, and the direct impact they have on our Veteran communities.
"Our disabled and at-risk veterans deserve every bit of support and assistance they can receive during these difficult times," said Ret. Sgt. Maj Joseph VanFonda, Chief Executive Officer of the DVNF. "While events and outreach programs continue to be an ongoing effort during the Covid 19 pandemic, our Grant program is a direct way to demonstrate our financial support for these non-profit organizations that provide much needed assistance to our homeless and disabled veterans and their families."
The grant amounts range from $12,000 to $20,000. And the top grant was awarded to Salute INC which provides a Financial Assistance to post-9/11 veterans and their families as they readjust to civilian life. The full list of 2020 DVNF Grant recipients are listed below:
Ayuda Smiles Inc. (formerly known as: Ayuda of Southern Arizona Inc.); Catholic Charities Of Kansas City St Joseph Inc; Easter Seals New Hampshire Inc; Easter Seals Tristate LLC; Embrace A Vet; National Veterans Legal Services Program; NBCC, dba New Beginnings; Patient Airlift Services; People for People Foundation of Gloucester County; Preble Street; Stack Up; The Mustard Seed of Central Indiana; Veterans Furniture Center; Veterans Moving Forward VMF; Village For Vets; and, Welcome Home Inc; Grace after Fire; (PVA) Paralize Veterans of America.
To learn more about the grant awardees and the work they're doing on behalf of our veterans, be sure to follow the Disabled Veterans National Foundation on:
Facebook: https://www.facebook.com/dvnf
Twitter: https://twitter.com/TheDVNF
Instagram: https://www.instagram.com/thedvnf
ABOUT DISABLED VETERANS NATIONAL FOUNDATION
The DVNF, a 501(c)(3) national non-profit organization is dedicated to providing critically needed support to disabled and at-risk veterans who leave the military wounded — physically or psychologically — after defending our safety and our freedom in combat.
For more information visit: https://www.dvnf.org/
Media Contact
Company Name: Disabled Veterans National Foundation
Contact Person: JeVauhn Wright
Email: Send Email
Phone: (202) 737-0522
Address:4601 Forbes Blvd. Suite #130
City: Lanham
State: MD 20706
Country: United States
Website: https://www.dvnf.org/