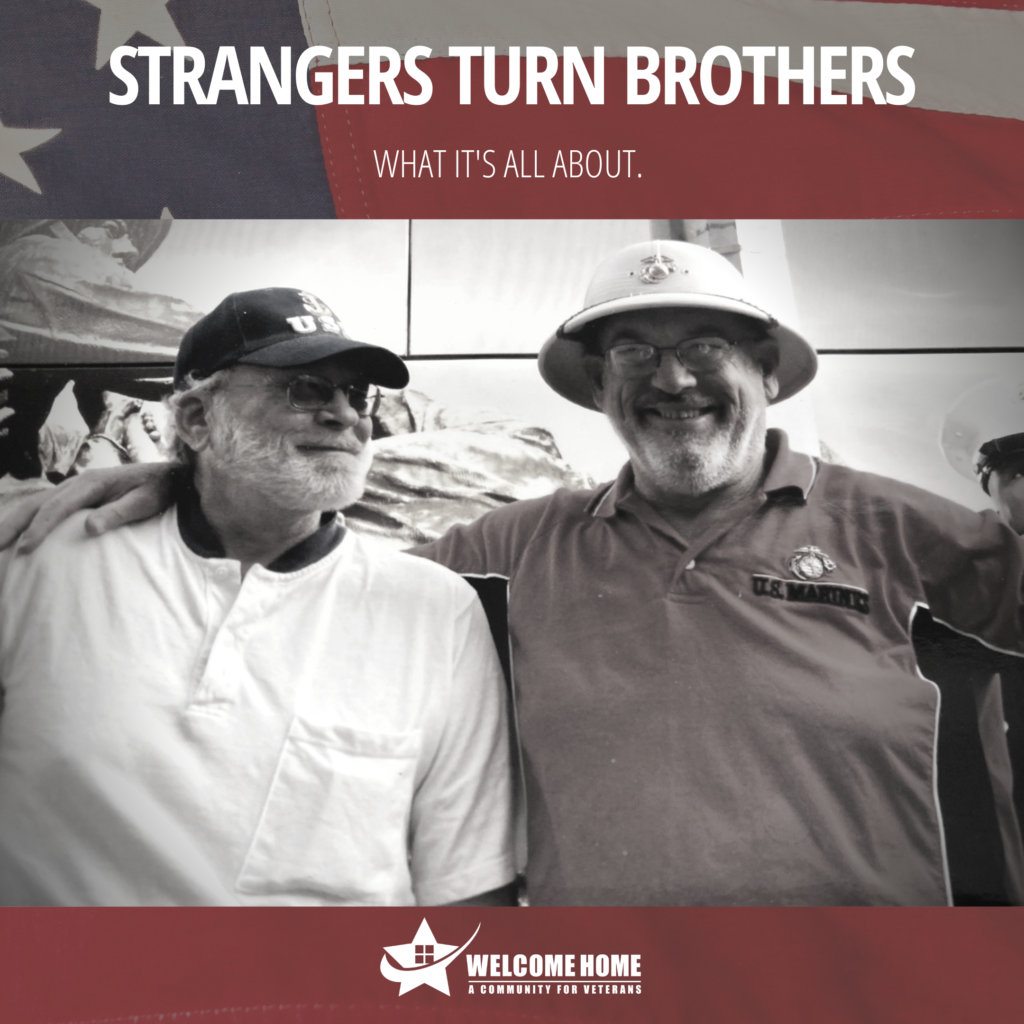 As we near Independence Day, we wanted to share a powerful letter and picture from one of our dear donors, Mr. Jim Mullendore, US Marine Corps. THIS is what it's all about. Please take the few minutes to read. I promise you it's worth it. And, thank you all for your support of Welcome Home and our Veterans. We are so deeply grateful to you! 
OPEN LETTER FROM JIM:
"I want to tell you a little about my friendship and donation in memory of William Lee (Bill) Torreyson, a former client at Welcome Home in Columbia and why I'm donating.
I met Bill 14 years ago at the Stress Disorder Treatment Program at Colmery-O'Neil Veterans Hospital in Topeka. At the time, SDTP was a seven-week inpatient program featuring intensive study of PTSD and small-group trauma counseling. Bill and I were both Vietnam veterans dealing with long term guilt and anger about that war.
Despite the fact that Bill had served in the Navy, and I'd been a Marine, we became friends during those seven weeks. I graduated first, and came home to my home in Mexico, Missouri, and resumed my recovery counseling at Truman VA. Six months later, as I walked through the hallways at Truman, a familiar voice called out "Hey Jarhead!." For the next 13 years, we were best friends. He was the ONLY male friend I'd had during my entire adult life. We drove to Washington D.C. in my 1991 S-10 pickup to visit the Vietnam Memorial. I helped him bury his mother.
Then, in 2018, I was diagnosed with lung cancer and Bill with cancer of the larynx. Bill drove me to Truman for my surgery, watched my dogs while I was hospitalized. and brought me home when I was released. My surgery was a success, and I'm now cancer-free. Bill elected not to fight his cancer. He moved into Welcome Home, which eventually helped him find a place in Sedalia where he could live independently with hospice care.
Bill was found dead in his apartment November 5, 2019. He had no surviving family, so I arranged a space for him at the Missouri Veterans' Cemetery in Jacksonville.
I know Bill had great respect for Welcome Home. "The REAL thing," is how he described it. Your organization took good care of him while he was there. You helped him die with dignity. Thank you. I hope this money helps you continue the fight against veteran homelessness. Semper Fi
PS — I left a picture of Bill & me in Washington with the donation. If you can use it in some way to help in fundraising, please do. If not, please return it to me. It's my only print." -Jim
…
What an honor it was to serve Bill during his time of need. May he rest in peace knowing his dear friend was there until the very end. There is so much love, beauty, and power in Jim's gesture, generosity and words. We don't know if he truly realizes how touching and awe-inspiring all of this is. There are no words to express our sincere gratitude for all he's shared. (And, of course we sent the original image back to him after making a copy.)
…
These two Veterans are among those who feed our 'why' and the reason Welcome Home lives out our values every single day: Serving with Compassion, Honor, and Excellence.