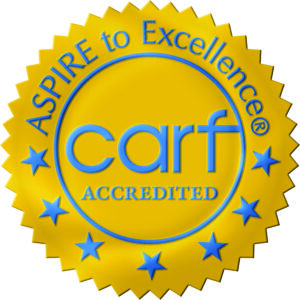 COLUMBIA, MO — March 30, 2020: CARF International announced that Welcome Home, Inc. has been accredited for a period of three years for its Rapid Rehousing and Homeless Prevention Programs. This is the first time Welcome Home, Inc. has submitted for accreditation and that the international accrediting body, CARF, has given accreditation to the organization.

This accreditation decision represents the highest level of accreditation that can be given to an organization and shows the organization's substantial conformance to the CARF standards. An organization receiving a Three-Year Accreditation has put itself through a rigorous peer review process. It has demonstrated to a team of surveyors during an on-site visit its commitment to offering programs and services that are measurable, accountable, and of the highest quality.

Welcome Home, Inc. is a 501(c)3 nonprofit charity organization located in Columbia, MO and has been providing shelter to homeless Veterans for nearly three decades. The organization has been providing emergency and transitional shelter, rapid rehousing, employment assistance, and other supportive services in their new facility since September 2017.
"Our Board of Directors and staff have worked tirelessly and diligently on continued quality improvement over the last several years," said Megan Sievers, Development Director for Welcome Home. "We're incredibly proud to receive the highest level of CARF Accreditation and we'll continue to go above and beyond to be the best, most quality agency we can be, with an unwavering commitment to our Veterans and stakeholders."  

CARF is an independent, nonprofit accrediting body whose mission is to promote the quality, value, and optimal outcomes of services through a consultative accreditation process and continuous improvement services that center on enhancing the lives of the persons served. Founded in 1966 as the Commission on Accreditation of Rehabilitation Facilities, and now known as CARF International, the accrediting body establishes consumer-focused standards to help organizations measure and improve the quality of their programs and services. For more information about the accreditation process, please visit the CARF website at www.carf.org.

For additional information, contact Megan Sievers at 573-228-2400 or [email protected]. Learn more about Welcome Home Inc. at www.welcomeveterans.org