PRESS RELEASE – JANUARY 3, 2019
For more information and interviews please contact:
Teresa Goslin, Phoenix Programs, 573-875-8880 ext. 2146
Tim Rich, Welcome Home (573) 321-5480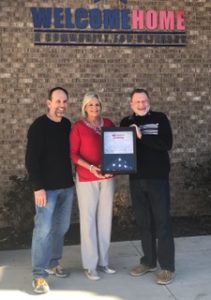 Welcome Home and Phoenix Programs Partner to Better Serve Veterans
(Columbia, MO) Welcome Home and Phoenix Programs have been collaborating with the Truman VA and others for many years. We work together to secure long-term permanent housing for the homeless Veterans we all serve. In the past, both agencies have been funded individually under the VA's SSVF program. This year, through mutual agreement because of the collaborative partnership we have shared, Welcome Home has become a sub-contractor for Phoenix making the SSVF grant administration process and services more efficient and streamlined.
"I am so proud of our community agencies, like Phoenix Programs and Welcome Home, that find ways to work together to serve those who are least among us," said Tim Rich, Executive Director of Welcome Home. "It is absolutely true that we can do more, good together!" said Rich.
Welcome Home provides more than just shelter and professional services for Veterans. Welcome Home provides a secure and stable community that Veterans and their families can call home while they get back on their feet. Our community is well-equipped with the critical resources and services necessary to offer both practical and emotional support to area Veterans.
Through strong social networks and relationships, Welcome Home builds community and hope for today, inspiring change for the future. Phoenix Programs will soon be celebrating 45 years of serving people suffering from substance abuse issues. Serving veterans and homeless veterans is one of it's greatest honors. At Phoenix they take a "Housing First" approach to preventing and ending homelessness among veterans and their families. This program assists with providing resources and support to help veterans and families with homeless or at risk of homelessness. This program offers outreach, case management, connection to benefits, assistance with financial resources or community resources to help end veteran homelessness within 18 counties in Mid-Missouri.
"We certainly can do more together! It is a natural fit for Phoenix Programs to partner with Welcome Home and we look forward to improving services and providing the best quality of life possible for the veterans we serve. I am honored to be a part of such a unique experience," said Teresa Goslin, Executive Director of Phoenix Programs.
Video available for sharing on social media.
https://www.facebook.com/phoenixprograms/videos/589560394818479/