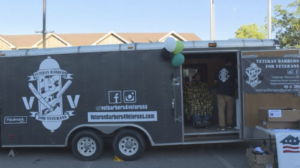 COLUMBIA – A barbershop on wheels offered free haircuts to veterans Thursday.
Veteran Barbers for Veterans drove from Kansas City to Columbia to offer its services to veterans and first responders from 9 a.m. to 8 p.m. Through sweltering heat, the group of barbers cut dozens of veterans' hair.
"You get to see the smiles," said Lloyd Blair, the founder of Veteran Barbers for Veterans. "You get to see the lives change and the support that comes through."
**Thank you to KOMU 8 News for the coverage.