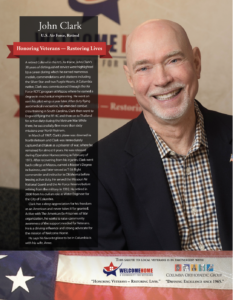 In September 2018, our "Salute to Local Veterans" campaign features John Clark.
Thank you for your service, John! 
A retired Colonel in the U.S. Air Force, John Clark's 30 years of distinguished service were highlighted by a career during which he earned numerous medals, commendations and citations including the Silver Star and two Purple Hearts.
ABOUT CAMPAIGN: Welcome Home has teamed up with Columbia Orthopaedic Group, Inside Columbia & Prime Magazines to feature and honor a local, mid-Missouri Veteran each month.