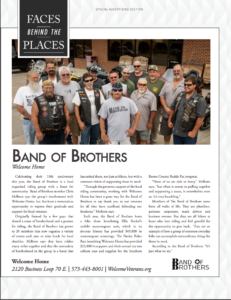 In September 2018, our "Faces Behind Welcome Home" campaign features Band of Brothers. 
Thank you for all you do for the community and Veterans, friends! 
Celebrating their 10th anniversary this year, the Band of Brothers is a local organized riding group with a heart for community. Band of Brothers member Chris Melbern says the group's involvement with Welcome Home, Inc. has been a tremendous opportunity to express their gratitude and support for local veterans.
ABOUT CAMPAIGN: Welcome Home has teamed up with Inside Columbia & Prime Magazines to feature a true champion for the Welcome Home mission each month.