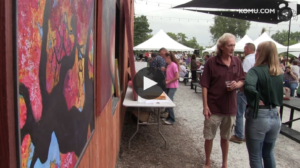 COLUMBIA – 'Welcome Home' and 'Cars4Heroes' gave a new car to an Army veteran who now makes a living out of his passion for art.
"My job right now and what I've decided to do with my life is to create art," Robert Scott Gardner said. "I had a small, compact vehicle and I paint often large. So, when I would be asked to bring paintings to a show or to exhibit some place I can't get them there myself."
He's recently gotten a lot of attention, including here on KOMU.com, and said he is not used to being well-known.
"A month of two ago I was headed to the grocery store, 9:30 at night, and I came home and a woman sent me a message on Facebook saying, I just saw you I think at the grocery store. Aren't you the artist?" he said.
Gardner said for years he hid secrets he didn't want to tell (including his IV cocaine addiction), so it's "unusual" but "gratifying" to be recognized.
He said he felt honored when people, who might not even know him personally, helped him get a new car.
**Thank you to KOMU 8 News for the coverage.