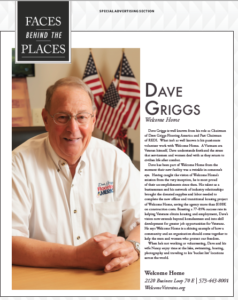 In June 2018, our "Faces Behind Welcome Home" campaign features Dave Griggs.
Thank you for all you do for fellow Veterans, Dave! 
Dave Griggs is well known from his role as Chairman of Dave Griggs Flooring America and Past Chairman of REDI. What isn't as well known is his passionate volunteer work with Welcome Home. A Vietnam era Veteran himself, Dave understands firsthand the stress that servicemen and women deal with as they return to civilian life after combat.
ABOUT CAMPAIGN: Welcome Home has teamed up with Inside Columbia & Prime Magazines to feature a true champion for the Welcome Home mission each month.