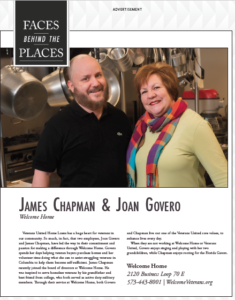 In March 2018, our "Faces Behind Welcome Home" campaign features James Chapman & Joan Govero.
Thank you for all you do for Veterans, James & Joan! 
Veterans United Home Loans has a huge heart for veterans in our community. So much, in fact, that two employees, Joan Govero and James Chapman, have led the way in their commitment and passion for making a difference through Welcome Home. Govero spends her days helping veteran buyers purchase homes and her volunteer time doing what she can to assist struggling veterans in Columbia to help them become self-sufficient. James Chapman recently joined the board of directors at Welcome Home. He was inspired to serve homeless veterans by his grandfather and best friend from college, who both served as active duty military members.
ABOUT CAMPAIGN: Welcome Home has teamed up with Inside Columbia & Prime Magazines to feature a true champion for the Welcome Home mission each month.