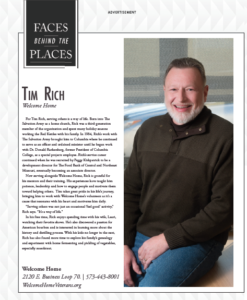 In February 2018, our "Faces Behind Welcome Home" campaign features Tim Rich.
Thank you for all you do for Veterans, Tim! 
For Tim Rich, serving others is a way of life. Born into The Salvation Army as a home church, Rich was a third-generation member of the organization and spent many holiday seasons working the Red Kettles with his family. In 1984, Rich's work with The Salvation Army brought him to Columbia where he continued to serve as an officer and ordained minister until he began work with Dr. Donald Ruthenberg, former President of Columbia College, as a special projects employee. Rich's service career continued when he was recruited by Peggy Kirkpatrick to be a development director for The Food Bank of Central and Northeast Missouri, eventually becoming an associate director.
ABOUT CAMPAIGN: Welcome Home has teamed up with Inside Columbia & Prime Magazines to feature a true champion for the Welcome Home mission each month.