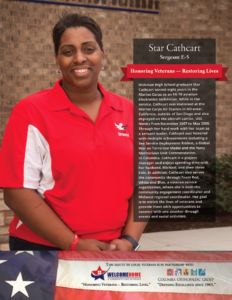 In February 2018, our "Salute to Local Veterans" campaign features Star Cathcart.
Thank you for your service, Star! 
Hickman High School graduate Star Cathcart served eight years in the Marine Corps as an FA-18 aviation electronics technician. While in the service, Cathcart was stationed at the Marine Corps Air Station in Miramar, California, outside of San Diego and also deployed on the aircraft carrier, USS Nimitz from December 2007 to May 2008. Through her hard work with her team as a servant leader, Cathcart was honored with multiple achievements including a Sea Service Deployment Ribbon, a Global War on Terrorism Medal and the Navy Meritorious Unit Commendation.
ABOUT CAMPAIGN: Welcome Home has teamed up with Columbia Orthopaedic Group, Inside Columbia & Prime Magazines to feature and honor a local, mid-Missouri Veteran each month.